Property Clearing
WE CLEAN OUT AND CLEAN UP!
Demolition & Removal
LARGE & SMALL STRUCTURES
Albany, Corvallis, Salem & Surrounding Areas
Serving Linn, Benton, And Marion Counties!
Our services Include but are not Limited to:
We're Local and Care about our Community
We Recycle, Compost, and Donate
We practice landfill reduction techniques to help lower the ecological impact to our planet by composting and recycling discarded materials whenever possible.
Apex will donate all usable items to Linn and Benton County Non-Profits that help residents in the community:
Personal, Professional Services
You will breathe a sigh of relief and the weight will be lifted off your shoulders when your property, both indoors and out, is free of unsightly junk and debris!
LARGE or SMALL, RESIDENTIAL or COMMERCIAL, we offer many services to help you solve junk removal & disposal issues for your residence or property.
We are professionals who offer personal, efficient service and enjoy working for the community where we work and live. We work with residents, business owners, real estate agents, construction companies, management companies, and anyone else that needs help!
Now serving Linn, Benton, and Marion Counties (Albany, Corvallis, Salem and surrounding areas)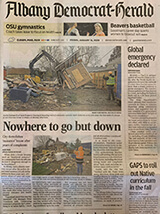 Gazette Article pdf
January, 2020
CONTACT US FOR A FREE,
No Obligation Estimate!
Or Call: 541-905-6451